Thanks to licensing restrictions, it can be a real pain to watch your favorite shows if you don't live in the right region. To bypass these geo-restrictions, your safest bet is to use a virtual private network – particularly on your TV device. The best Apple TV VPN will unblock popular streaming apps like Netflix and Hulu from anywhere in the world.
Unlike other devices, though, using a VPN for Apple TV isn't cut and dry. You'll need one that offers a Smart DNS service or comes with router support. To help with your search, we tested 33 providers on the latest Apple TV 4K to see which performed well. Check out the five best VPNs based on their streaming ability and connection speeds.
Top 5 VPNs for Apple TV
1. Surfshark
pros
Great value for the money
Top pick for major streaming sites
Unlimited device connections
cons
Barebones audit of logging policy
Limited P2P servers with poor speeds
Overall, Surfshark is the best VPN for Apple TV with its user-friendly interface and strong encryption standards. Verified by independent auditor Cure53, Surfshark runs a tight ship when it comes to performance and security. It's also one of the cheapest VPNs available on the market.
More so, one of Surfshark's best perks is its unlimited connections, which saves you even more money on device protection. Users that stream on multiple devices won't have to compromise their connection when they switch screens.
It also comes with both Smart DNS configuration and router support, so your Apple TV VPN options are better than what most providers can offer. You can try Surfshark out for 30-days risk-free to see if you like its setup.
For more in-depth information, read our Surfshark VPN Review.
2. NordVPN
pros
Slick UI, making it exceedingly easy to use
Vast array of security features
Massive list of high speed U.S. servers
cons
One of the pricier VPNs
Replaced free trial with money-back guarantee
Deserving of all the praise, NordVPN comes in second as the best VPN for Apple TV in 2021. This security giant provides military-grade encryption and most recently, Siri support, which is ideal for Apple users.
The NordVPN app is easy to configure and comes with added streaming features such as SmartDNS for Apple TV, router support, and dedicated IP addresses in five countries: France, Germany, the Netherlands, the United Kingdom, and the United States. This helps prevent your device from being blacklisted from streaming sites.
From our tests, NordVPN delivered impressive connection speeds fit for 4K streaming and proved successful in unblocking US and UK Netflix as well as BBC iPlayer. In addition, NordVPN comes with up to 6 simultaneous connections, so all your Apple devices are secure.
For more in-depth information, read our NordVPN Review.
NordVPN Special
Out with the old, in with a hot new deal! Get up to 65% off your first subscription for a limited time.
NordVPN Special
Out with the old, in with a hot new deal! Get up to 65% off your first subscription for a limited time.
3. Hola VPN
pros
Freemium VPN business model
Up to 10 simultaneous connections
A large network and great speeds
Very easy to install and use
cons
Limited privacy features
Freemium version logs data
No third-party audit
Another great Apple TV solution in our book is Hola VPN. Hola is a reliable budget-friendly service that unblocks streaming content like BBC iPlayer and allows for up to 10 simultaneous connections. Be it your iPhone, iPad, Mac, or Apple TV, Hola VPN is easy to set up and has one of the best user interfaces among VPNs.
While most of Hola's features are locked behind the premium plan, its cheapest subscription is just $2.99 per month, which is on par with most top-rated providers.
Hola VPN is fully transparent about its free and paid subscriptions, stating that its free service is to overcome censorship and geo-blocks while its paid service is for secure browsing. Depending on your VPN needs, Hola VPN has a lot to offer Apple TV users.
For more in-depth information, read our Hola VPN Review.
4. CyberGhost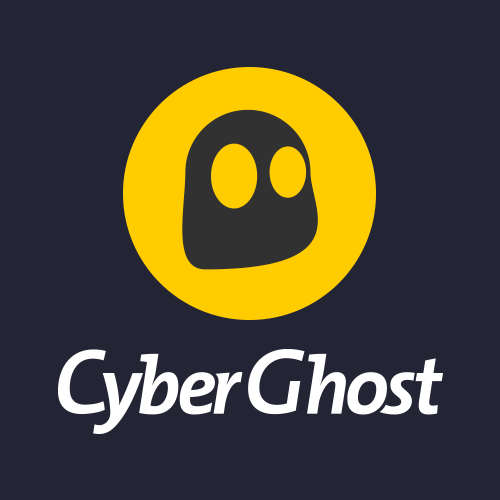 pros
Fast, secure and easy to use
Top pick for streaming
Allows Torrenting/P2P
cons
Logs some anonymous data
Doesn't work with Chromebook
CyberGhost is another top VPN for Apple TV thanks to its dedicated streaming servers and blazing connection speeds. Not to mention, subscribers gain access to CyberGhost's massive network and a variety of streaming features including IP configuration and SmartDNS. CyberGhost even promotes a long list of streaming sites it can successfully unblock.
The CyberGhost app is sleek and simple to use, which Mac users also appreciate. Thanks to CyberGhost's device and platform compatibility, Apple aficionados can protect not only their Apple TV, but also their iPhone, iPad, and Mac, too.
Additionally, CyberGhost offers simultaneous connections on up to 7 devices and supports streaming and P2P traffic on thousands of servers worldwide. If you're looking for a cheap VPN for Apple TV, CyberGhost is worth looking into.
For more in-depth information, read our CyberGhost VPN Review.
5. ExpressVPN
pros
Safe, unrestricted torrenting/P2P
Unlocks Netflix, BBC iPlayer & more
3,000+ servers in 94 countries
cons
No kill switch on iOS
More expensive price point
Only 5 simultaneous connections
Rounding out our list, ExpressVPN is another excellent VPN for Apple TV. It consistently delivers fast speeds no matter your distance from its server and manages a server network spanning 94 countries. For streamers, ExpressVPN is a go-to choice as it comes with a SmartDNS service (branded as MediaStreamer DNS) and a dedicated router app that's easier than most VPNs to install.
Though ExpressVPN is more expensive than some VPNs, you get what you pay for – and then some. ExpressVPN's sleek interface and simple configuration make it a great choice for users at every experience level. Test ExpressVPN with its 7-day free trial to see how it fits into your media streaming.
For more in-depth information, read our ExpressVPN Review.
VPN FAQs for Apple TV
1. How do I set up a VPN on my Apple TV?
Unfortunately, Apple TV doesn't support VPN software directly. You will need to install either a Smart DNS (Domain Name Server) on your Apple TV or a VPN on your home router.
Here are easy steps to configure a Smart DNS on your Apple TV device:
Locate the DNS address from your chosen VPN provider. We recommend NordVPN for Apple TV.
Turn on your Apple TV and open up "Network" from the Settings menu.
Navigate to "Wi-Fi" and click on "Configure."
From the "Configure" settings, toggle your DNS address from "Automatic" to "Manual."
Input the DNS address you have from your VPN.
Restart your Apple TV, and start streaming!
Note: a Smart DNS is a handy protocol that helps unblock geo-restricted content, however, it does not hide your IP address or provide the same privacy as a full VPN service.
2. Does an Apple TV have a built-in VPN?
In short, no, Apple TV doesn't support VPN software directly. The two main ways to protect your Apple TV while streaming shows online are through 1) a Smart DNS or 2) installing a VPN on your router.
3. What is the best VPN for Apple TV?
There are hundreds of VPNs that work well for Apple TV users. Yet, Surfshark is the best overall in our book. It comes with a Smart DNS address, unblocks 30 Netflix libraries, has a zero-logs policy, and is very affordable. Explore the five best VPNs for Apple TV above.
4. Do I need a VPN on my Apple TV?
This all depends on your personal preference. While Apple TV does not natively support VPN connections, using a VPN can provide streaming capabilities for geo-restricted content you'd otherwise be blocked from.
A Smart DNS service or VPN router are the two main ways to add unblocking ability to your Apple TV experience. A Smart DNS doesn't provide the privacy benefits of a true VPN, but it can help unblock shows in other regions. For most streamers, that's a fair tradeoff as Apple TVs are mainly used for watching TV, not web surfing.
5. Do I need a VPN for Kodi on Apple TV?
If you use Kodi on your Apple TV, we definitely recommend using a VPN to encrypt and anonymize your streaming connection. This will protect you from nosey third parties, like government surveillance agencies or your internet service provider (ISP), from snooping on your online activity. 
Since Apple TV does not natively support VPN apps, you'll need to set up a VPN on your router to secure your connection. We strongly advise you to not use a Smart DNS with Kodi since it will not hide your IP address, leaving you vulnerable to data leaks and snoopers.
6. What is Smart DNS?
Smart DNS is an advanced service some VPNs offer that configures a device's Domain Name Server (DNS) to help you connect it to your chosen VPN. It works great at unblocking geo-restricted content, but it does not conceal your IP address.
This means that it can't encrypt your connection or keep you anonymous online – the true purpose of a VPN.
Apple TVs don't support native VPNs, so a Smart DNS is a good workaround for users simply looking to bypass firewalls or access foreign streaming libraries. For a full VPN solution on your Apple TV, we recommend installing a VPN on your router directly.
7. Can I download a VPN from the tvOS App Store?
Unfortunately, there are no VPNs available on the tvOS App Store, but there are a few workarounds you can use to set up a VPN with Apple TV.
The main solutions include:
Install a VPN on your internet router (this is the safest and most secure solution)
Set up a Smart DNS address on your Apple TV (great for streaming, not so great for privacy and security)
AirPlay content from your iPhone, Mac, or iPad to your Apple TV (Apple Airplay is not supported by Netflix, which makes this a last resort for most users)