In the VPN world, users mix up security and privacy a lot. Yet, make no mistake, they are two distinct VPN features that serve important functions.
The primary purpose of a VPN is to keep your online activity concealed. Virtual Private Networks do this in a few ways. They hide your IP address and practice a no-logs policy to protect your personal data. This protects your data from being linked to you or sold to third parties.
The secondary purpose of a VPN is to protect your data from malicious threats and hackers. A secure VPN should offer strong protocol and encryption options, a kill switch, and leak protection to shield you from any breaches. This is especially true if you frequently connect to public networks and use the best torrenting sites available online.
We reviewed top rated VPNs on these criteria and found the best VPNs for security and privacy in 2022. See who makes our shortlist below.
Top 5 VPNs for Security & Privacy
1. NordVPN
pros
Sleek app that's easy to use
Vast array of security features
Fast download speeds
cons
Expensive short-term plan
Does not accept PayPal
Basic browser extensions
For security and privacy-conscious users, NordVPN is the best VPN overall. Headquartered in Panama, it's void of any ties to international surveillance alliances or retention laws that might compromise your privacy. This VPN also undergoes yearly third-party audits to test and verify its privacy and logging claims. NordVPN secures all user data with AES 256-bit encryption and collects zero user logs. In addition, it offers a host of advanced features like DoubleVPN routing, a kill switch, and CyberSec (i.e. ad-blocker) for further protection.
The NordVPN app is also easy to configure and runs "Onion over VPN" and WireGuard (branded as NordLynx) protocols for secure tunnels between your device and the VPN server. Even if you think you have nothing to hide online, you likely don't want the information below getting into the wrong hands:
From our tests, NordVPN delivered impressive speeds and supports both streaming and torrenting on multiple servers across its network. A single subscription can support up to 6 devices at once and is backed by a 30-day, risk-free money-back guarantee.
For more in-depth information, read our NordVPN Review.
NordVPN New Year Deal!
Snag a 2-year NordVPN subscription for $3.29/mo., and save 72% on your online privacy.
NordVPN New Year Deal!
Snag a 2-year NordVPN subscription for $3.29/mo., and save 72% on your online privacy.
2. CyberGhost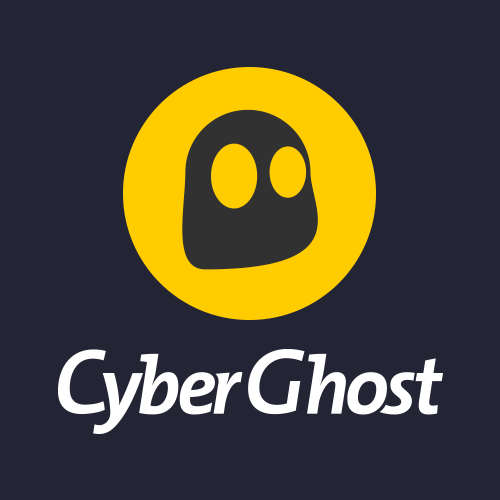 pros
Fast, secure and easy to use
Supports torrenting/P2P
Offers dedicated streaming servers
cons
No OpenVPN option on Mac and iOS
Doesn't work with Chromebook
Router config. requires a learning curve
Based in Romania, CyberGhost is another VPN dedicated to users' online privacy. It provides various options for you to maintain your anonymity – namely a strict no-logs policy and the ability to pay for its service using cryptocurrency. It also secures all data with AES 256-bit encryption over OpenVPN and provides an automatic kill switch feature to safeguard your personal information. Moreover, CyberGhost offers built-in features like IPv6, DNS, and WebRTC leak protection and 24/7 live chat support should you have any issues.
Aside from securing your data, CyberGhost is also great for streaming and torrenting. It has a worldwide network that includes 80+ dedicated P2P servers and unblocking capabilities. A CyberGhost subscription comes with up to 7 simultaneous connections and VPN apps for Mac, Windows, iOS, and Android devices – among others.
For more in-depth information, read our full CyberGhost VPN review.
3. IPVanish
pros
Supports torrenting & P2P
Zero data leaks detected
Unlimited device connections
cons
Cluttered interface
Under 5 Eyes surveillance
Doesn't work in China
IPvanish is a quality VPN that puts security and privacy first. IPVanish employs industry-approved AES 256-bit encryption and OpenVPN/IKEv2 protocols to secure your data transfers at all times. It also gives users customizable settings that include features like port selection, split tunneling, and a kill switch.
This information-rich app comes with unlimited device connections and promises an airtight no-logging policy, which is crucial for users in need of a private VPN on multiple devices. If you're as intrigued as we were when testing it, consider trying IPVanish out risk-free for 30 days.
For more in-depth information, read our IPVanish VPN Review.
IPVanish New Year Deal – 65% OFF
Save 65% on a 1-Year IPVanish subscription and pay just $3.75/mo. for better online privacy.
IPVanish New Year Deal – 65% OFF
Save 65% on a 1-Year IPVanish subscription and pay just $3.75/mo. for better online privacy.
4. Surfshark
pros
Free 7-day trial available
Unblocks 30+ Netflix libraries
Unlimited device connections
cons
Limited P2P servers with poor speeds
No IPv6 support can lead to data leaks
Pricey 1-month subscription
While relatively new to the market, Surfshark is quickly making a name for itself. If you're in search of a secure VPN that won't break the bank, we highly recommend giving it a go.
From a privacy perspective, Surfshark covers its basis well. Based in the British Virgin Islands, it's protected by stricter privacy and anonymity laws than those of the US or Europe. Surfshark also holds multiple third-party audits from Cure35, most recently a 2021 holistic audit of its logging policy and encryption methods to ensure users of its privacy claims.
From a security perspective, Surfshark runs a fairly large network of over 3,200 servers that are backed by AES 256-bit encryption, multi-hop protection, and a zero-logs policy. In addition, Surfshark has a user policy that does not restrict bandwidth (partly thanks to its ability to hide users from ISP monitoring and therefore speed throttling) and allows access to restricted websites via its "NoBorders Mode" feature. NoBorders helps users circumvent most geoblocks in restrictive countries.
With a single subscription, you get unlimited device connections, multiple VPN client options, and a 30-day money-back guarantee just to be safe.
For more in-depth information, read our full Surfshark VPN review.
5. Private Internet Access
pros
Affordable premium subscriptions
Up to 10 simultaneous connections
Secure & customizable encryption
cons
Room for interface improvements
Limited advanced features
Lacking recent no-logs policy audit
Packed with advanced settings and an attractive VPN app, PIA is among the best secure VPNs out there. You can protect up to 10 devices at once with your PIA subscription and get standard AES 256-bit encryption and multiple protocols like IKEv2/IPSec and OpenVPN (TCP/UDP) for airtight protection.
PIA also comes with a handful of bonus features including dedicated IPs, IPV6/DNS/WebRTC leak blocking, and a kill switch. These are especially important for reporters and businessmen who rely on a private connection at all times.
Overall, it's an extremely safe VPN and does exactly what you'd hope for in a VPN – hide your IP address and securely encrypt all your data sent and received.
For more in-depth information, read our Private Internet Access VPN Review.
Security & Privacy VPN FAQs
1. Are VPNs safe?
While some premium VPNs offer bonus security features to protect you online, it's important to remember that the main function of a VPN is privacy first. VPNs don't work in the same way as anti-virus software.
Instead, VPNs provide security in the way of hiding your IP address and using industry-standard encryption for your personal online data. This encryption keeps users safe from cybercriminals, government officials, and even internet service providers (ISP). However, it cannot protect users who visit phishing websites or download compromised files on their own devices.
2. What is the best VPN?
There are thousands of VPNs out there, so picking one is nearly impossible. Instead, think of VPN providers like ISPs – each comes with its own pros and cons to fit different online needs.
Overall, the best providers will legally hide your IP address, unblock geo-restricted content, and protect your personal online data from nosey third parties.
To find the perfect solution for you, explore the Best VPNs to make our user list.
3. Can I get a VPN for free?
Yes. There are hundreds of free VPNs available in the Google Play Store and App Store. Be careful, though. Free still comes with a price; what you don't pay for with the money you end up making up for with your personal data being sold to third parties.
If privacy is your number one concern with using a VPN, we recommend checking out premium VPNs instead.
4. How secure is a VPN?
VPNs have varying levels of security. Quality services will follow industry standards, though, with military-grade AES 256-bit encryption and OpenVPN protocol that safeguards user data while connected to the internet. Check out the most secure VPN above.
5. What are the limitations of using a VPN?
A VPN is a great tool for improving your online privacy and security. However, even the best VPN services have limitations.
Here are a few examples:
Increase your internet speed. Aside from the case where an ISP is throttling your connection, all VPNs inevitably slow down your internet speed due to the rerouting nature of the program.
Provide complete malware protection. VPN encryption helps to safeguard your devices against malware attacks and cybercriminals, but it is not a complete security tool. For that, we recommend using a dedicated malware program.
Securely store passwords. Some VPNs offer additional features like a password management tool, but that is separate from the VPN itself. Use a dedicated password manager like LastPass to protect your logins.
6. What is OpenVPN?
OpenVPN is an open-source VPN protocol that enables people to run secured internet connections. It uses OpenSSL library and military-grade AES 256-bit encryption over UDP (User Datagram protocol) to establish a secure "tunnel" between a VPN server and the VPN client. 
Since it is open-source code, it is constantly being inspected by third parties and improved upon. For this reason, most VPN providers offer OpenVPN by default.
Note: this is not to be confused with OpenVPN Inc. which is a VPN service of its own.
7. How safe is AES 256-bit encryption?
Advanced Encryption Security (AES) 256-bit encryption is virtually impenetrable using standard computing technology. AES is a symmetric key cipher that uses 128-bit data blocks that would take a hacker billions of years of computing power to crack.
For example, you would need to check 2256 different combinations to verify the key that matches both the encryption and decryption. That's an astronomically large 78 digit number.
It was initially created for federal government purposes, but it is now the industry standard for secure encryption. Most VPNs use this method of security by default.
8. How does a VPN work?
A VPN is a service that redirects your internet requests through a VPN provider's private server, encrypting the data sent and received from your device(s). This essentially hides your IP address and helps protect your personal information from being hacked and stolen.
In addition, a VPN service also helps users access geo-restricted content like streaming services and peer-to-peer content that's usually blocked on public networks.